Due to the current Covid situation some facilities are unavailable and additional restrictions apply. Please ask when making a booking for further information.
Teifi Main Hall
Teifi Hall is the main hall at the building and holds a maximum of 200 people seated. The hall has great natural light with 6 large double glazed windows along one side which all have adjustable blinds. There is a high suspended ceiling with covered florescent lights throughout. The floor is new and is rubber based and is ideal for the sports and activities especially short mat bowls. Its is easily cleaned and leaves no marks from chairs and tables. The hall is heated by 2 new industrial gas powered boilers.
It is a huge room and could quite easily be used for children's parties, there is space for a bouncy castle or similar plus room to lay out tables for the birthday tea, there is also a hatchway from the kitchen for easy access.
Stage
The hall has a full width raised stage with access doors either side of the stage. The stage has access stairs either side for front stage access. The stage is fully curtained with projection screen and cupboards to the back. There is small stair access either side at the back of the stage, leading to a corridor behind the stage and a storage room for chairs and tables with further room for changing etc. The stage has a 6m opening and is 4m depth and 8m width.
There are 9 full RGB DMX LED lighting front stage controlled form stage left platform. 5 stage wash LEDS and 4 spot LEDS. The digital 192 channel controller has 240 scenes, 12 fixtures and 6 chases and can be midi controlled. There are 2 x 700 watt pre-amped speakers either side of the stage with connections to a 12 channel Yamaha mixer available for use. There is also a professional digital projector for stage effects and presentations using VGA, HDMI, and CAT5.
Please note we do ask that you have an experienced sound engineer to use the equipment or we may be able to supply one for you at an extra charge.
Exits
There are four entrance/exits not including the stage. The main double doors at one end with curtain heaters above. There is a door leading to the committee rooms, kitchens, toilets/showers and side exit. There is a double door in front of the stage leading directly to the side walkway and a double exit door the other side of the hall leading to further emergency exits.
There s a hatch through to the kitchen for serving refreshments.
The hall is disabled friendly with access to male/female and disabled toilets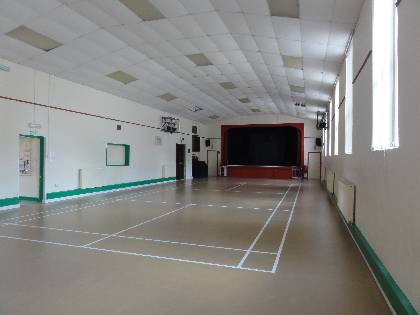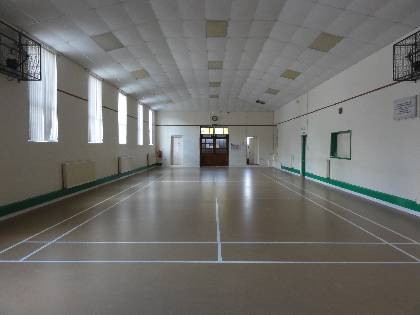 Other Rooms Available
Gollop Suite
Consists of a large bright, modern room with kitchen area consisting of sink, refrigerator, cupboards and worktops. Fully fitted with chairs, tables and crockery for upwards to 40 people. It has its own entrance and outside space and both male and female toilets (with baby changing facilities) making it completely self contained from the rest of the hall. These rooms have had a complete refurbishment and are brand new.
Available for a variety of uses, larger meetings, talks, groups, smaller parties this room fills the gap between the large hall and the smaller meeting rooms.
Please note that although this room has a flat path access to it, it is not disabled friendly.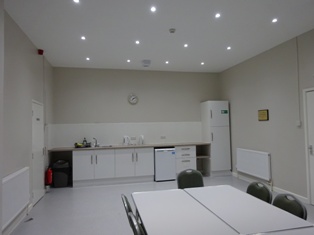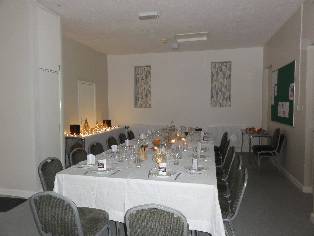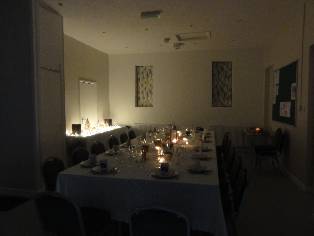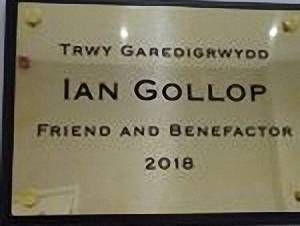 Cemaes Room
Our refurbished Cemaes Room is available for hire,
This light, bright and airy room and very versatile room can be used theatre style with space and chairs for 24, or boardroom style with centre table for approximately 14 chairs. Suitable for talks, meeting and classes, including hands-on, there is also a white wall suitable for using as a screen if required.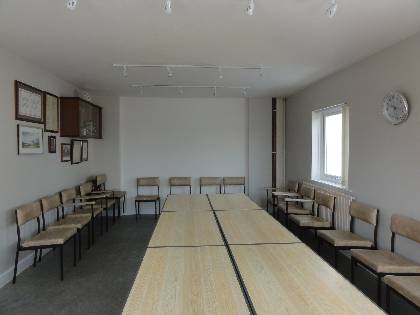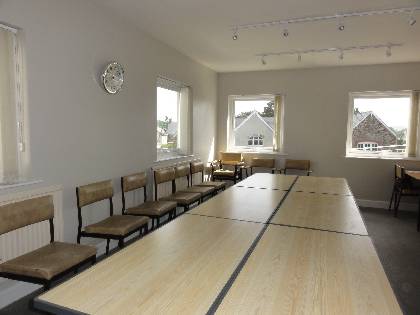 It can be used for smaller Coffee Mornings, parties and talks as there is room for 24 seated and facing the screen wall (see pictures below of set ups.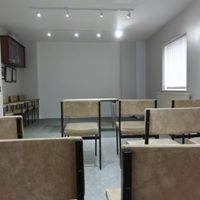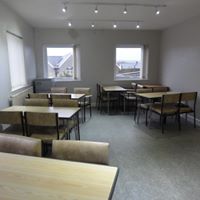 Degwell Room
Slightly smaller than Cemaes, useful for smaller meetings, hands-on sessions and classes, max capacity 12.
Both Cemaes and Degwell Rooms are disabled friendly with a ramp and rail access and adjacent to the male/female and disabled toilets. There is also a baby changing unit in the disabled toilet.
The Kitchen
The completely refurbished kitchen has easy clean white units and walls, all new appliances including 6 burner, 2 oven, six burner stove, tall larder fridge, microwave, industrial dishwasher and plumbed water heater. Connected to main hall by a hatch which has an electrically operated shutter for ease of use. Sleek white units with grey work tops and floor complete the clean modern look. With a separate hand washing sink, fire extinguisher and first aid kit it complies to regulations.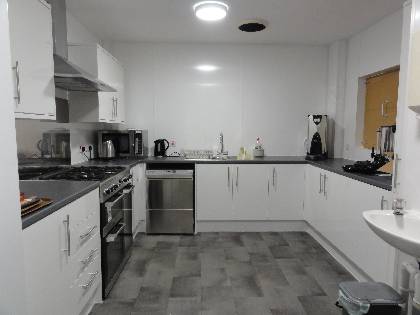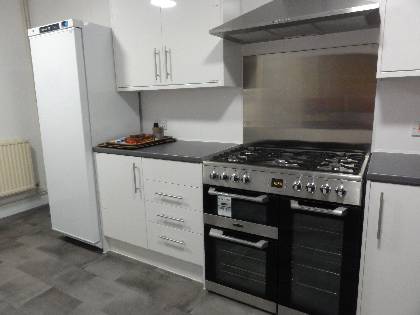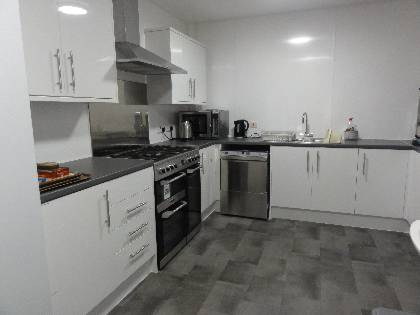 Other Facilities
Changing rooms and Showers: Separate male and female with showers, benches and pegs
Toilets in main Hall: Male, female and disabled (with baby changing facilities).
Toilets in Gollop Suite: Male and female with baby changing facilities.